Hamptons Lane
Cost:  $47.00
Shipping:  United States
Coupon:  Click Here to save $10.00 on your first box, it will deduct at check out.  There are many boxes to choose from and the value is out of this world.  Hamptons Lane gives you the option to opt out each month but you must do so by the 5th.
Disclosure: This post contains referral links.
–    My "Fifty Shades" Hampton's Lane Box is a little late, so I am not able to put up a review just yet, but I wanted to let you know that there are some February Boxes still available.  That being said, I am beyond excited about the March Pasta Box and if you have yet to subscribe you can get either box for only $37.00.  These boxes make fantastic gifts for couples, newlyweds or the cooking lover in your life.
–     The March Box-Italy: the land of pasta! Learn how to make pasta the way "Nonna" makes it – by hand with pure ingredients. In Italy, it's all about the flour, and nothing compares to the finely milled variety when it comes to pasta. Knead your own dough and roll out into a sheet that can be formed into ravioli with stamps that are circles, squares, and triangles. For noodles, use a tagliatelle pasta cutter to roll out silky long strands and dry them on your very own beechwood pasta drying rack. Looking for something more exotic? Make your very own squid ink pasta with a few drops of authentic squid ink. Finally, don't forget that the perfect pasta needs the perfect sauce: black mushroom & truffle sauce from the Italian truffle masters at Urbani. Serve it all up surrounded by your loved ones for an unforgettable Italian dinner. Bellissimo!
Trio of Ravioli Stamps by Eppicotispai, Italy
MSRP: $24.00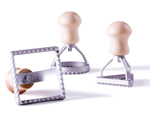 –     Make beautiful and authentic homemade ravioli easily with these cute stamps. The three handy tools seal ravioli into perfect circles, squares, and triangles and mark them for cutting in one swift step. Fun for all ages, gather your family around to make any kind of ravioli imaginable – butternut squash, truffle mushroom, classic ricotta, and so many more. Made in Italy by a pasta-loving family, each stamp is crafted with durable aluminum and a wood handle for years of use.
 Urbani Black Truffle & Mushroom Sauce, New York, NY    MSRP: $10.00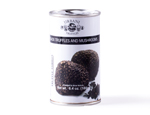 –     A decadent sauce loaded with black truffles, mushrooms, and pure ingredients that accentuate the truffle flavor. Urbani is the world leader in Italian truffles, and this sauce is truly remarkable in its ready-to-go format. Simply heat in a pan and spread on toast, add to pasta, drizzle over meat and fish, or – our favorite – combine with more mushrooms and ricotta for an unbelievably delicious and easy mushroom ravioli filling.
Pasta Drying Rack by Weston, Strongsville, Ohio
MSRP: $12.00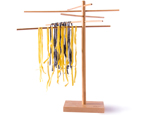 –     Made of high quality beechwood, this pasta drying rack quickly assembles to create a kitchen fixture worthy of the Italian countryside. As you create beautiful silky egg noodles, drape them over the rungs on your pasta drying rack to provide the finishing touch to tagliatelle or fettuccine before cooking. When you are done, simply remove the rungs and store the rack flat.
Squid Ink by El Jison, Spain
MSRP: $9.00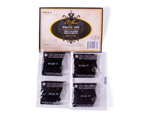 –      A truly gourmet ingredient, squid ink, or "Nero di Seppia" as the Italians call it, is fun and easy to use. Create gorgeous black squid ink pasta with a couple drops in your pasta dough, or a deep squid ink risotto. This particular brand of squid ink is of the best quality and taste, with the highest standards of quality control. It comes with 4 small packets, so you don't need to worry about a large jar of squid ink going bad. Note: Squid Ink is also labeled as "Cuttlefish Ink".
Flour by Antimo Caputo, Naples
MSRP: $4.99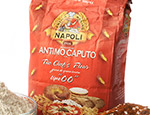 –     If you want to know the secret to silky homemade pasta, this is it. Antimo Caputo is widely regarded as the maker of "the world's best pizza & pasta flour," and their Tipo oo variety is nothing short of perfect. Extremely difficult to find at your regular supermarket in the US, Tipo 00 is finely milled, high-protein flour with a powdery texture. To make authentic Italian pasta, use the authentic flour the Italians prefer.
Tagliatelle Pasta Cutter by Eppicotispai, Italy
MSRP: $7.00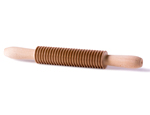 –     This handy grooved rolling pin quickly cuts sheets of fresh pasta dough into tagliatelle—flat, wide noodles that are the perfect carrier for your favorite sauces. Made of beechwood, the pasta cutter is both beautiful and sturdy – the perfect tool for your pasta making set! Please note, this product is hand wash only.
–    The March box has a value of $68 and shipping is included.  For me, the value of this box is more in the memories I will make with my husband and kids.  We are big foodies in our house and my husband and I love to cook.  To be honest, I am thrilled my husband cooks so well.  He has been pleading with me to use my pasta maker lately since, he has never made fresh pasta.  I think spring pastas are so awesome and these tools and ingredients will help us come up with some amazing dish ideas and keep us a bit more organized.  Remember you can make the cost of this box only $37.00 by CLICKING HERE.  You will have a subscription when you sign up, but one of the best features about Hamptons Lane is that you can opt out each month if you do not like the curation or if money is a bit tight.
What do you think?
–J