Disclosure:  This post contains referral links.
POPSUGAR Must Have
Cost:  $39.95/monthly
Ships to United States
Coupon: Click Here and Type in MH15 to receive $15.00 off  your first box (January Box).
–     When the spoilers first came out for the December box I was so grateful that I had not gave up on this subscription. POPSUGAR has had a bit of a bumpy ride the last few months, I believe due to expansion and some shortages in customer service.  Despite some difficulties, they have always been very responsive to my emails, so I do not have a complaint, especially after seeing this amazing box. The items could have been hand picked by my husband for me personally.  I pasted the picture below from their website to give you an idea of what this subscription purports to do each month.
–    I find POPSUGAR to be an eclectic offering each month of the latest trends.  So far I have been pleasantly surprised.  My box arrived 12/20, which is pretty normal and it was in fantastic condition, no dents or even scrapes.
–    Each box comes with an insert that fully explains each product and gives its value.  According to POPSUGAR this months box had a value of $175.95 and that does not include shipping.  I think people are crazy to not try this sub when you considering they have a $15.00 off code that would make your first box around $25.00 which is so below retail.  Even if you do not like everything offered, I find their items make fantastic gifts.
Item One:  Subtle Luxury Sparkle Scarf  ($62.00).
–     I am in love with this scarf and plan to wear it on Christmas Day.  I found the most fantastic video to learn how to put your scarves together in 25 different ways, if your interested just click here:  http://youtu.be/5LYAEz777AU
Item Two:  Smashbox Be Legendary Long Wear Lip Lacquer ($24.00).
–     Smashbox Be Legendary has the most absolutely stunning deep Bordeaux color and it could not have matched my complexion more perfectly.  When I put it on I expected it to be smooth but I did find some hardened particles.  Not sure how else to really describe it.  I will still use every ounce of it.  They could not have matched the color better and I hope it lasts as long as they promise.
Item Three:  Williams-Sonoma Cupcake Mix in Vanilla Bean ($14.95).
–     I cannot wait to make these cupcakes with B.  She really is my little baker.  I am going to see if I can pick up some edible glitter to put on top of the frosting for a holiday look.  I absolutely love going to Williams-Sonoma and it was so nice to receive one of their items in a subscription box.  I even have their children cookbooks in my collection.
Item Four:  Canvas Home Hand Painted Bowl ($29.00).
–     The Hand Painted Bowl is a porcelain bowl with a platinum interior.  I plan to use this as an earring holder on my dresser.  It really is beautiful and quite elegant.
Item Five:  Sparkle Pop Sydney Necklace ($42.00).
–     The Sydney Necklace alone made this box an absolutely value.  Plated with 18K gold it can be worn alone or layered.  I cannot wait to wear this with a black or navy shirt.  It is just that bit of sparkle and pop that can take every day wear and turn it into something special.
Item Six:  Knot & Bow Gift Tags ($4.00).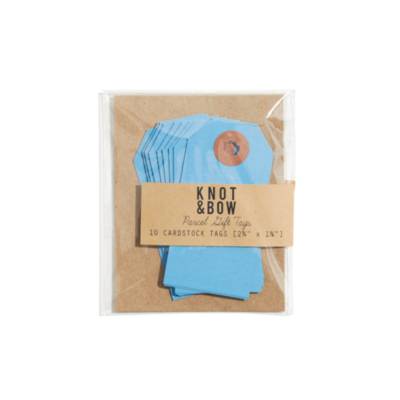 –     I am going to see if I can pick up some shiny blue and silver wrapping paper and then maybe this would be holiday appropriate.  Otherwise, I will save it for another occasions.
Were all you lovelies as excited about this box as I was?
–J