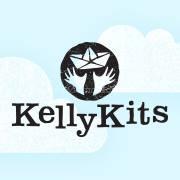 Kelly Kits
Cost:  $12.99 monthly or $99 annually.
Shipping:  US
Coupon:  N/A
–     Kelly Kits introduce a broad variety of tools, materials and art techniques in 5 art disciplines: painting, sculpting, drawing, printmaking, and collage.  There are instructions for all age groups.
–     I recently picked up a three month subscription at Plum District.  Plum District has amazing subscription and item sales.  I do not believe this deal is available any more but you can check out their other offers.  Click here to check out my first Kelly Kit Review "Lustrous Leaves".
–     Kelly Kits come in a big yellow envelope.  Everything looked great and I was especially impressed that none of my pastel chalk had broke.  For the life of me I could not figure out what the sand was doing in the bag.
–     However, I flipped it over and found the following notice.  I am impressed that Kelly Kits put in the extra effort to keep the chalk clean and ready to use.  I also appreciated the mess warning because B walked away from this very colorful.
–     One of the greatest features of this kit is the educational component.  Kelly Kits gives you a lot of items to discuss and research.  They even included a video link this month.  I purchased this for my four-year-old and began to wonder if I made the wrong decision.  Last month, I wanted to do the leaf tray for myself, and felt it was a bit of a waste to turn the clay into a B.  Especially knowing B would not wait for it to dry before she needed to paint.
–      I know many teenagers that would love the advanced art techniques and projects included in Kelly Kits and think this would make a great gift for older individuals who want to flex their artistic muscles.  The preschool project is great, but there are so many subscriptions out there already that offer preschool projects.  I highly recommend this for older kids, but after working on this with B, I think this subscription is a time saver and there is a benefit to purchasing for younger kids as well.
–     In the end B and I did a hybrid of the preschool project.  I did show her how to write her letters, and we talked about up and down.  We also went through all the paper and chalk colors.  Together, we had fun blending the chalk with the applicator, and it definitely broke up the day.  It is freezing outside, so we have to find fun where we can inside the house.   For me, one of the best reasons to love subscription is that I work a lot of hours and come home to instant fun and educational opportunities with my kids without having to go to a million stores.
–     These are memories we will share for a lifetime.
What do you think of Kelly Kits?
–J