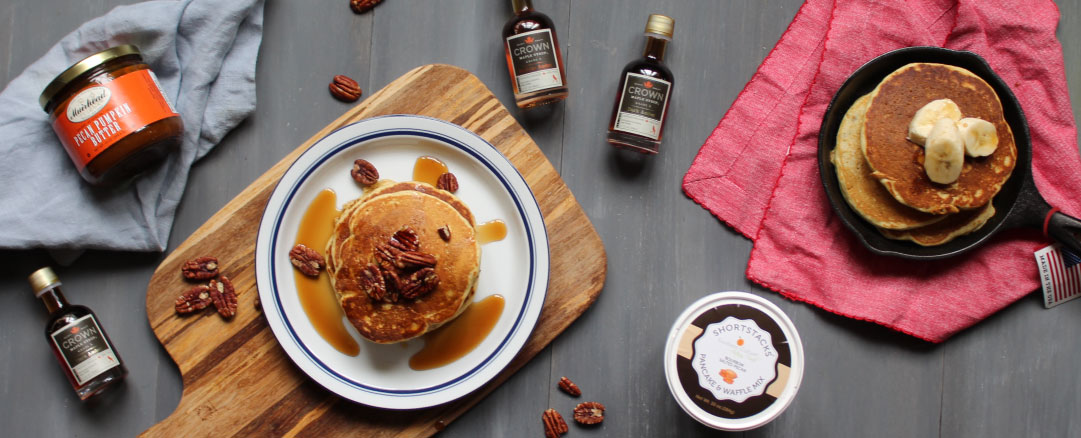 Partnering with Midwestern tastemaker Ross Sveback, Hamptons Lane brings you a box filled with all you need to make a hearty American Holiday Breakfast the whole family will love. Not much is more American than pancakes, pumpkins, bourbon, maple syrup and cast iron skillets, and this box has it all. Whip up a new kind of pancake with Oprah-favorite Bourbon Salted Pecan Pancake Mix topped with a custom trio of the same maple syrup served at the President of the United States' breakfast table. Got pumpkin on the brain? Use Muirhead's award-winning Pecan Pumpkin Butter in a pumpkin loaf or a batch of gooey breakfast rolls baked in your very own Lodge cast iron skillet. For a different spin, try one of Ross' favorite recipes in your skillet – Sausage and Maple Stuffed Tomatoes served alongside a perfectly poached egg made with Tovolo's poaching papers. Like Ross, you'll be able to 'elevate the everyday' breakfast into something extraordinary.
6.5″" Cast Iron Skillet by Lodge, Pittsburgh, Pennsylvania
MSRP: $20.00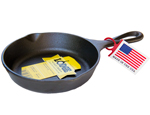 -This cute 6.5" cast iron skillet is soon to be your most versatile tool in the kitchen. Use to sauté, sear, fry, bake, and roast to your heart's content as you whip up amazing breakfast dishes like Ross' Sausage and Maple Stuffed Tomatoes, Pumpkin Pecan Bread Pudding and Gooey Rolls, Maple Syrup Sausage Scramble, and Maple Roasted Sweet Potato Hash. As America's Original Cookware, Lodge lives by the ethos, "We don't just make iron; we make heirlooms that bring people together for generations," – we are confident this skillet will make a lasting impression on your home as well.
     -Ross' Pick: I love Lodge cast iron because of its heritage quality. I own my grandmother's Lodge pans, and I know my grandchildren will use mine. From a lifestyle perspective, Lodge goes from stove or oven to table effortlessly – bringing a sense of comfort to any meal.
Perfect Poach! Egg Poaching Papers by Tovolo, Seattle, Washington
MSRP: $6.00

-These handy bags take the guesswork and mess out of poaching eggs. Simply crack an egg into the pouch—use one pouch for each egg—immerse in simmering water, and remove after four to six minutes. Slide your perfectly poached egg onto a plate and enjoy. Suddenly Eggs Benedict with Maple Syrup Hollandaise and Pumpkin Pecan Biscuits doesn't seem so daunting.
     -Ross' Pick: Making poached eggs can be daunting, yet with the papers it is a breeze. I love how easy they are to use, and don't take up much room in my cupboard.
Custom Maple Syrup Trio by Crown Maple Syrup, Dutchess County, New York
MSRP: $20.00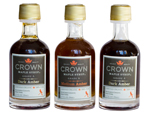 -Prepare to stretch your maple palate by experimenting with Crown Maple Syrup in the kitchen – the same syrup served at the table of the President of the United States' Inaugural Lunch. Look past a sweet pancake topping to discover how the gourmet flavor offered in each certified-organic bottle of Crown Maple can elevate dishes like hollandaise sauce, granola, endive salad with maple vinaigrette, and pork sausage stuffed tomatoes. Together with Crown Maple, we put together a trio of two Dark Amber syrups and one Medium Amber syrup for your culinary adventures.
Ross' Pick: Breakfast is always elevated when you add maple syrup to the menu, drizzled over fresh pancakes, biscuits or sausage. Nothing can replace the comfort you feel when you add maple syrup to a morning meal.
Pumpkin Pecan Butter by Muirhead, Ringoes, New Jersey
MSRP: $12.00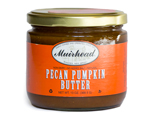 -Family-run Muirhead combines ripe pumpkin, premium pecans and classic spices to create award-winning holiday butter. More than a delicious topping, this flavor-packed spread bakes perfectly into pumpkin loaves, pancakes, and biscuits, and is an essential ingredient in crowd-pleasing gooey pumpkin rolls and spicy bread pudding.
Bourbon Salted Pecan Pancake & Waffle Mix by Southern Culture Artisan Foods, Decatur, Georgia
MSRP: $8.00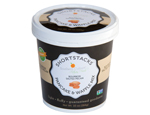 -A favorite of Oprah, Southern Culture has taken everything you thought you knew about pancakes & waffles and brought you a flavor combination that is the salty to your sweet! We love whipping up a big batch and experimenting with a smattering of toppings – berries, bananas, chocolate, more pecans, and, of course, Crown Maple Syrup. The Bourbon Salted Pecan Pancake & Waffle mix is made with chunky Georgia Pecans that are lightly salted with Kentucky Bourbon Smoked Sea Salt for a classic flavor that everyone in the family will enjoy.
$10 Coffee Credit from MistoBox, Phoenix, Arizona
MSRP: $10.00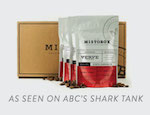 -Make every morning awesome with a delicious breakfast complemented by a steamy cup of delicious coffee. Our friends at MistoBox want to make it easy for you to discover the world's best coffee. Each month, they search high and low for the most talented roasters, sample their coffee, and choose 4 each month to send you. Their coffee geeks know the difference between the merely-good and the truly-special, so your only job is to enjoy their offerings! We love the Thesis blend by Ceremony and La Colombe's Monaco Blend.