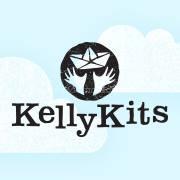 Kelly Kits
Cost:  $12.99 monthly or $99 annually.
—-Kelly Kits introduce a broad variety of tools, materials and art techniques in 5 art disciplines: painting, sculpting, drawing, printmaking, and collage.  There are instructions for all age groups.
—I recently picked up a three month subscription at Plum District.  Plum District has amazing subscription and item sales.  I do not believe this deal is available any more but you can check out their other offers.
The October theme is Lustrous Leaves. B is all about fall and leaves so it was perfect timing.
—The kits arrive in a plain padded yellow envelope and included paint, two small sculpt it modeling clay packages,  instructions and a leaf template.
—I would have loved to make the leaf bowl but B is only four so I went with the pre-school project instead.  The kit recommends to make letters with the clay, let the kids explore and feel the dough.  My issue was that I had to let the dough dry for 48 hours before B could paint.  She was not having this, and we ended up painting the B wet.
—The instructions were well written and we did have a lot of fun.  I do wonder if this is a tad expensive for what you get, especially when you compare it to other similar subscriptions.
I had a hard time capturing this but next month is Wolf Kahn Landscape.  I imagine B and I will do something fun with this, especially since she loves to paint.