Hamptons Lane $47.00/monthly
https://hamptonslane.com/r/ccb5015c012213a24cc7f68cd3678edb
The above link is my personnal referral link which will deduct $10.00 off your first box!
UPDATE 9/20:  We have used the speakers and hamburger press and both were wonderful.  The speakers were actually very loud, unlike what the reviews I posted about earlier said.  However, if you are next to a crowded stadium I could see why they may not be loud enough.  We made the best stuffed burgers tonight using the press and ketchup.  The only difficulty we had was making the top of the hamburgers with the press.  There really was not clear directions on how to accomplish this so we improvised 🙂
  The picture below and a wonderful coupon convinced me to give Hamptons Lane a try this month, and I am so glad I did.  This months theme was The Tailgate Box with items that are perfect for upcoming fall parties.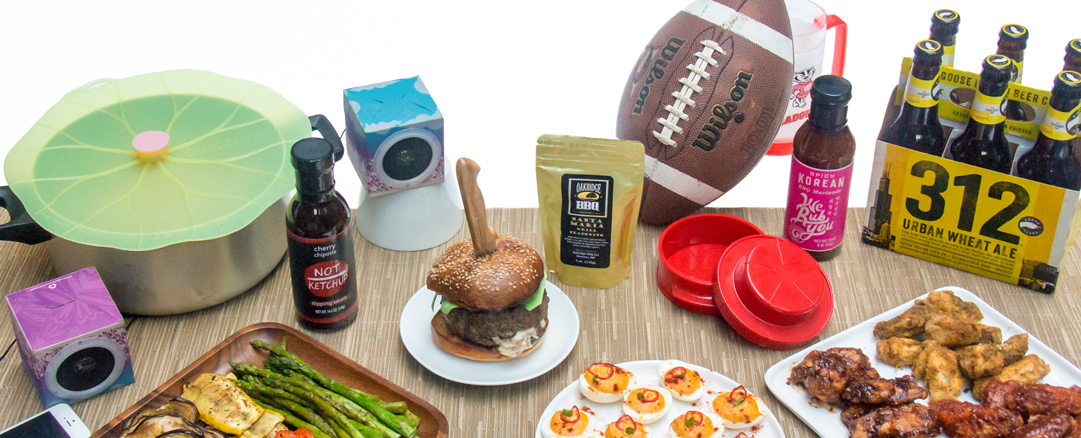 My shipping through UPS had a slight delay.  I was happy to see the box arrive today as I was concerned it would be a much later delivery or possibly damaged.  The box looked great and UPS emailed me right away to let me know it was delivered.
     When I first opened the box I was not sure what to expect.  Initially I thought all the items were just thrown into the box but then I realized that two of the items could not fit into their traditional box due to their size.
   The picture really does not show you the color or size of these items.  The Lily Pad Silicone Lid (Extra-Large) is indeed very large and can fit over a round dutch oven.  I am so impressed with the versatility of this product.  It can go in the microwave to steam food, in the freezer, or over your dishes to lock in freshness and prevents spills. I plan to open my Fold and Play Speakers on Monday at work.  When I first saw that the box included Fold N' Play Speakers by Origaudio I was almost immediately sold on the purchase. The recycled approach to this model is amazing and no batteries is such a gift.  They retail for over $16.00 which is close to half of the regular asking price for the box.  I did read on reviews that the sound quality is a little low.  I will update after work on Monday.
     I have yet to try these product but I can assure you it will not be long.  I am recently acquainted with flavored ketchup and have found it to be amazing.  So it is in that spirit that I cannot wait to try Cherry Chipotle Dipping Sauce by Not Ketchup.  The bottle promises to rival the traditional ketchup condiment and give a complex, gourmet touch to tailgate staples like stuffed burgers, steak, French fries, chicken sausage, meatballs, chicken wings and glazed bacon.
    My teenage boys love hamburgers and they have been asking me to buy a hamburger press for quite some time. I did remove the packaging and the press is really durable and seems to be high quality. My 17 year old showed me how to work my Stuff-A-Burger Press by Charcoal Companion this evening and he told me that the quality was better then other presses that he has used (he loves to cook with his friends).  I am so inspired I may run out and get everything for burger night tomorrow.
     I received the Spicy Korean BBQ Marinade by We Rub You and I know my husband is going to be ecstatic as he loveS anything spicy.  I have seen this brand in other subscription boxes but not this flavor.
The Santa Maria Seasoning by Oakridge BBQ. has actually caused a bit of a dilemma for me.  As an award winning rub it is known for its amazing taste with all cuts of beef but I have heard it is amazing on ribs.  Hamptons Lane included several recipes with their flyer (Korean BBQ Deviled Eggs, Bacon Cheddar Jucy Lucy and Santa Maria Chicken Salad Sandwiches) but they also encouraged this rub to be used on chicken wings, hence my dilemma.  Ribs and Wings both sound amazing!
      Hamptons Lane September Box has a value of over $60.00.  Considering a regular subscription is 47.00 it is not necessarily a great value in the traditional sense.  I have been monitoring this service for awhile; they have their past boxes on their site.  I think they do a wonderful job but I will be honest, there are only two boxes including this one that have peaked my interest.  I received a wonderful deal on this box but, in the future I will monitor this subscription monthly to make sure value is in place before purchase.  This is one of the rare wonderful services that lets you see what is in the box before you purchase each month.  I have no problem recommending this box with the understanding that a lot of the value is in the specialty and unique quality of the procured items. What do you think?
-J