Last week I explained that I have seven kids (and a husband) and we have a birthday or two every month from July through February.  The month of September is extremely difficult as I have three birthdays in a span of three weeks.  With a full house I use birthdays as a way to celebrate each of my kids as individual, so I definitely go a bit over board. As much as I want to spoil each kid (and my husband) on their special day, I still have to stay true to my budget and find the most cost effective way to throw a party that caters to each persons unique likes and style.  My birthday series is a way to throw an inexpensive party that is themed around on of my family members likes or even loves.  
   My baby A is turning two and his personality is truly beginning to show.  He loves wheels and cars so much I even found him in my closet recently playing with my husbands roller blades. He was just rolling the wheel over and over again.  I found this a little funny because B is three and we have a house full of girly toys and yet A ignores all of his sisters toys and goes right for the balls and cars.  In no way did we push this, it just happened naturally.  So with his love of all things that have wheels in mind I have decided to create a car themed birthday.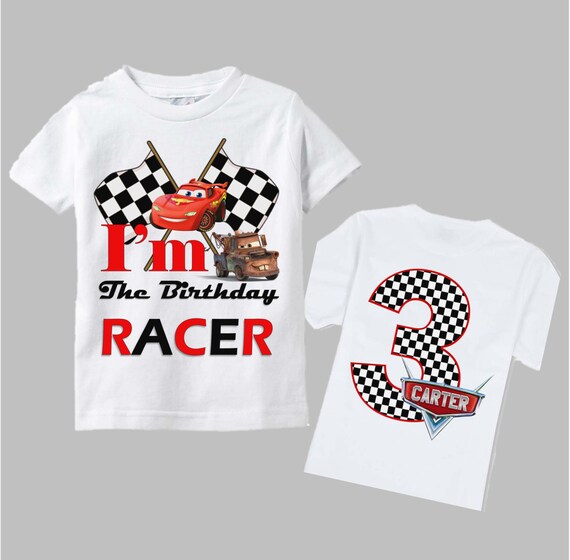 I think Etsy is the most amazing site in terms of creativity and support for small business.  I will be purchasing this wonderful personalized tee shirt for A and I know he will love it!  Amazon.com is another place I go to in order to compare prices with retail.  I am a prime member so shipping is free.  I found the following items and the prices are within my budget.
I thought I would skip the cake this year and give my little guy his very own mini car cake and serve guests cupcakes.  What a wonderful table topper this makes.
     Cars 1, Cars 2 my son will not care, he loves balloons.  Not so sound preachy but rather because I care; please remember that you have to watch little ones with balloons because they are a choking hazard.  That being said, I think I can watch him and I know he and his sister will love these balloons.
   Hanging cars and a big wall picture will excite any 2 year old.  I can just imagine his face as he walks in to our dining room and sees these hanging from the ceiling and the scene setter wall decoration hanging up next to the table.
A table cloth and plate settings will be a nice added touch and help make clean up easy.
  I am going to have visit my local party supply shops for the tableware.  Unfortunately this is his second birthday and I cannot use this kit but I think it is awesome. 
Because this is for a two year old I do not plan on giving out much in terms of party favors.  Instead I will do a craft with the kids but I have to say I found these boxes so cute and I am tempted to fill them up with healthy snack for the kids.
   Adding an additional $25.00 for the cupcakes and the mini cake with plates the cost for A's 2nd birthday would be under $70.00 and within my budget.   I love sharing my ideas with you all.  What do you think?  Is there something special you like to do for your family?
–J